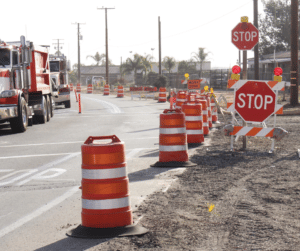 We are all familiar with navigating through construction zones on every other corner. With our mild weather year-round, these road improvement projects rarely go on hiatus. According to TxDot, distracted driving and speeding were among the leading causes of construction zone injuries and accidents. More than 4,480 people were killed in crashes in 2021 in Texas work zones. That's the second-highest yearly total behind 4,701 deaths in 1981. Traffic fines are doubled in work zones when workers are present and can cost up to $2,000. If a driver fails to follow the Move Over/Slow Down law, a fine of up to $2,000 is also possible. 
Let's put ourselves into the shoes of the workers themselves. Freeways, one-ways and bridges are all dangerous places to report to work with only a hard hat, vest and a "caution" sign. Imagine having 18-wheelers fly by your desk within 10 feet going 75 mph. A little scary, right? Roadside construction workers are relying on us, as drivers, to give them the courtesy of safety. If you are driving on a congested road, give yourself time to get into the next lane in order to save yourself from the stress of merging at the last minute. Mitigate the risk of injuring yourself or a worker by simply becoming more aware and slowing down. The life you save could be yours. 
So, how can we as motorists help out our local construction heroes as they work tirelessly to improve our roads? Here are a few things to keep in mind as you commute with construction. 
Stay Alert– Put your phone down and pay attention to work zone warnings and speed limits. Give yourself time to move into the next lane to avoid close proximity to the workers themselves. 
Slow Down- Give the workers the courtesy of one lane in between with a reduced speed. There is always a risk for unexpected people or objects coming into your lane. Even if the area looks clear it is the right thing to do to drive at least 10 mph slower than the speed limit. 
Plan Ahead– Most road closures and construction projects are listed on your local traffic websites or on your local news sites. Easily available to plan ahead, whether going on a trip or your daily commute. If you have an ongoing construction project on your daily route, plan a different way to avoid getting into an accident. 
What should you do if you are injured in a work zone? 
Seek immediate medical care 

Speak with a personal injury trial lawyer about your legal options

Remember, you do not have to contact your insurance company immediately, your attorney can handle those communication tasks

Participate in medical evaluations that will be needed for your case in coordination with your attorney