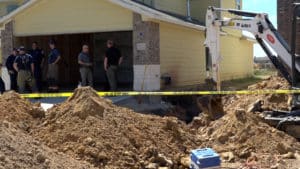 According to Montgomery County Fire Marshal Jimmy Williams, a vapor release and flash fire was reported by a witness causing about a thirty-foot column of flame coming from the construction zone gas line. The North Montgomery County Fire Department was called to a reported gas line explosion and fire on Monday at 12:40pm. This was located at Grover Creek and Caney Mills Drive in the Caney Mills Subdivision off Willis Waukegan. 
Once the Fire Department arrived, they found two males in their 30s seriously burned. They were stabilized on scene by MCHD Medics and transported to a burn center in Houston. 
Gas line explosions can cause serious burn injuries. Kherkher Garcia Trial Lawyers are experienced in assisting with the recovery of burn victims. If you have been injured in this explosion or a similar incident we are prepared to help.
If you would like to know more about how to receive help visit Kherkher Garcia Burn Injury Lawyers.
If you would like help now Contact Us.
Two men suffer first- and second-degree burns after gas line explosion in Conroe subdivision https://t.co/ZNd9fLXnkd

— Conroe Courier (@ConroeCourier) October 4, 2022